Even in the most rewarding careers there's an element of stress. Those of us who love what we do can still experience emotional and physical fatigue after a long day's work.
There is an added burden of stress and anxiety right now. Upping how we care for our own health is extra important at this moment in time. 
What if there was a way that you could pause, when you feel the overwhelm creeping in, to breathe and reduce the stress, anxiety, and fatigue . . . transitioning yourself to a more relaxed, calm, and high-performance state of mind? 
What if that transition could happen in just moments?
Recently we've been sharing the powerful tool of meditation in the from of  Martin Boroson's One-Moment Meditation® (OMM), with BlueFire Leadership clients to help them regroup quickly.
It can be used to relieve stress and promote serenity; at your work station, in a stairwell, outside on a bench, or even at the beginning of a meeting.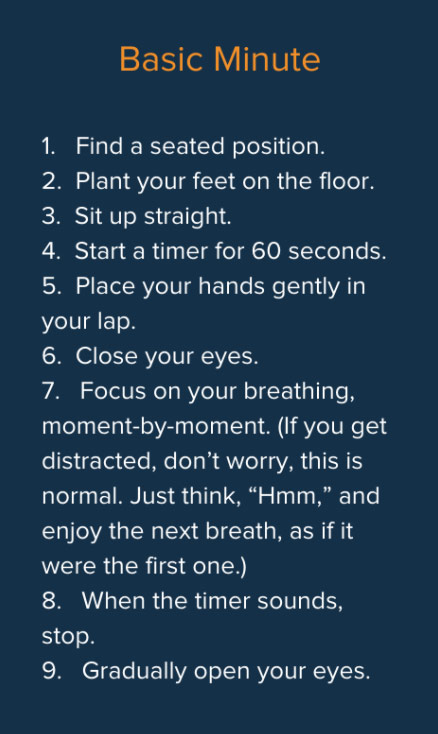 A meaningful change in your state of mind can happen quickly— you can find a state of relaxed wakefulness in just a moment. 
Begin with an exercise called, "the Basic Minute," – just 60 moments strung together to make a minute.
 Aim to do one Basic Minute each day, but please, keep the Basic Minute in the short-and-sweet realm and don't do it for longer than a minute. The purpose of the Basic Minute is to help you realize that you really can tap into deep peace quickly. So stay within the parameters of the exercise! 
While it's not possible to find peace-of-mind in every minute, what could change if you could reduce your stress by even 10%? 
Perhaps that means you will be 10% less likely to cause a car accident, or
snap at a loved one, or make a critical error at work. 
And given how we all know that stress compounds throughout the day (A bad start to the day makes for a rotten day overall! Or at least, really hard to recover from.)
Make a plan to incorporate the Basic Minute into your daily routine. 
Begin by setting an automatic reminder or aim to become more aware of when you feel stressed and use it then. It works and the more often you do it, the less overall stress you'll feel. You just have to do it!
Once you're comfortable with the Basic Minute, you can move on to advanced training in One-Moment Meditation to make it more flexible and more useful.
Exercises such as the Portable Minute, the Emergency Minute, the Bonus Minute, and the Surprise Minute. With practice and training it's possible to reduce the length of the Minute gradually, until you can achieve a sense of equanimity in just a moment.